07 Mar 2013
Indian Chief's salary demonstrates lack of controls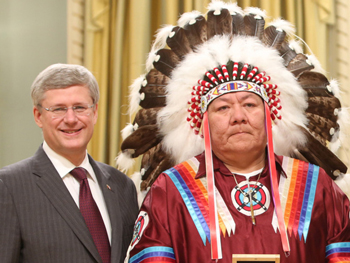 There is something terribly wrong with a system that allows political "leaders" to manipulate the system of governance to score large salaries, while shortchanging the very people they are elected to serve. I know we've become accustomed to this sort of thing, but, really…?
This was (humorously?) highlighted in the media story that broke this week. The winner of the annual "Teddy" award for the worst example of waste in Canada (presented by the Canadian Taxpayers Federation) for this year was Standing Buffalo First Nation Chief Roger Redman who was being payed the equivalent of more than $300,000 for running the affairs of his 443 member reserve. Unable to get by on that paltry salary, over the last ten years Redman has also accumulated more than $99,000 in advances from the band.
Apparently, Redman's councillors also received outrageous salaries last year – more than the Premier of Saskatchewan. According to PANow.com (Prince Albert, Sask), "The band is struggling to maintain social services for its members due to a lack of money, putting excessive spending on salaries in the spotlight." This led to an actual impeachment of Redman and his councillors by the band senate, which Redman, of course, claims is illegitimate because proper procedure was not followed.
Further evidence that natives themselves have to be more rigorous in managing their own affairs.
Related Posts: