03 Nov 2010
Harper Govt says No to Potash buyout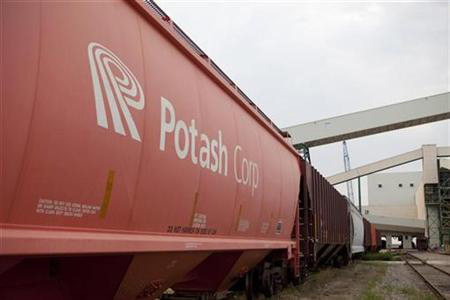 The federal government today announced that it was rejecting the hostile takeover of Potash Corp. of Saskatchewan. This bid had been in the works for almost 3 months and has created quite a fuss in Saskatchewan.
Prime Minister Stephen Harper had previously indicated that he considered the takeover a fairly routine buyout of a company which had already sold off its controlling interests to American investors. Billiton had even pledged to bring the head office of Potash Corp. back to Saskatoon from Chicago.
But the government of Saskatchewan is concerned that it will lose about $3 billion in royalty revenues over the next 10 years if the deal goes through. Billiton has not addressed this issue to the satisfaction of the Saskatchewan government so they are on record as vigorously opposing the deal..
In his official announcement, Industry Minister Tony Clement said today that he was "not satisfied that the proposed transaction is likely to be of net benefit to Canada." The real story is that Potash had become a hot potato with fellow Tory Saskatechewan Premier Brad Wall threatening court action against Ottawa.
An aboriginal group called the Indigenous Potash Group has also been putting together a counter offer, and claimed to be ready to mount a constitutional challenge if the BHP bid was approved. They claim that neither the government nor BHP has met a requirement to "consult and accommodate" aboriginal groups about developments impacting treaty rights.
I suspect what really happened here was that the federal government saw no major positives from the deal and quite a few negatives. Having a fellow Tory like Brad Wall fighting a heated jurisdictional battle over what is clearly a Saskatchewan natural resource simply does not make sense for the federal Conservatives.
Confronting a well-heeled native group with investment connections around the world is not a particularly appealing prospect either.
Related Posts: