19 Sep 2010
Wyndance Golf Club in Uxbridge, Ontario
Three golfing buddies and I headed over to Wyndance Golf Club in Uxbridge, Ontario this afternoon (Sunday, Sept 19, 2010). Wyndance was designed by Greg Norman for Clublink, Canada's largest golf course operator, and opened in 2007.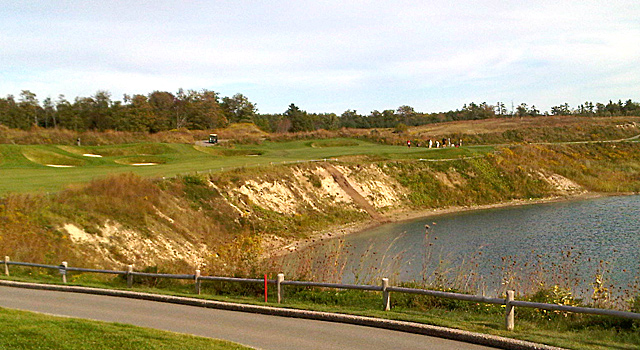 Wyndance is built on the site of an old quarry and uses the contours of the quarry to create its most distinctive features. The course actually runs (more or less) around the quarry with three or four holes dropping down to the bottom level and then rising up again on the next hole to the perimeter.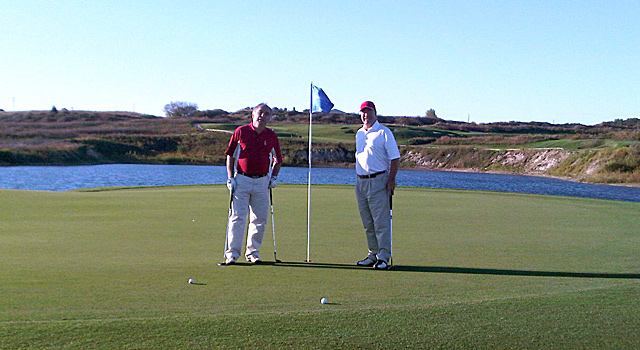 The course has been criticized by some for not making more effective use of the bottom of the quarry. For instance there are no holes where you shoot off the top down to a landing area in the bottom. This is probably because there is a par 3 "Academy Course" taking up much of the bottom.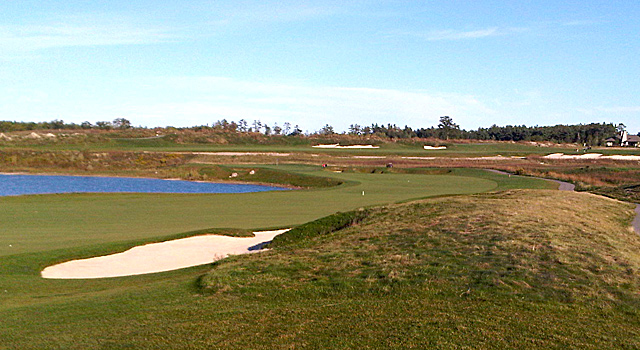 As I said to Fritz (my most frequent golf partner) before heading out on the trip, I wasn't sure if I liked Wyndance or not. We had played it about a year ago and that time I was so upset about my play on the front nine that I could barely remember looking around and appreciating the view.
This time was different. I was playing reasonably well and things were going along fairly nicely. That always increases your appreaciation for a golf course, and this time was no exception.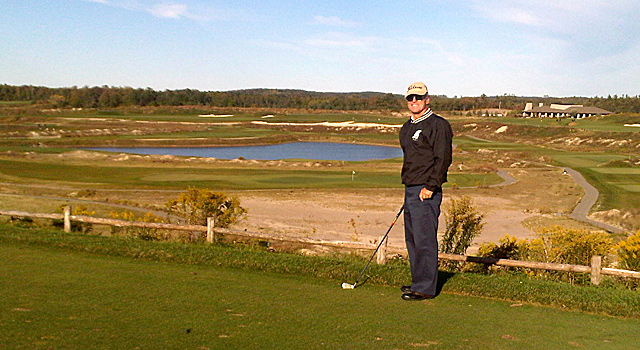 The fact is, Wyndance has many of the features that I and (at least some of) my closest golf associates really like in a golf course – hard, fast fairways that are receptive to running the ball, logical green complexes that make sense and are conducive to making putts, interesting bunkers with mostly natural (brown) sand, an absence of trees interfering with shot making. In other words, the characteristics found on real links courses.
Thanks to Fritz, Mike and Frank for letting themselves be photographed in various compromising positions. I left my good camera in the Jeep, so these photos were taken with my Blackberry and punched up as best I could after the fact. All photos are not to be reproduced without permission from me, Rick Hendershot.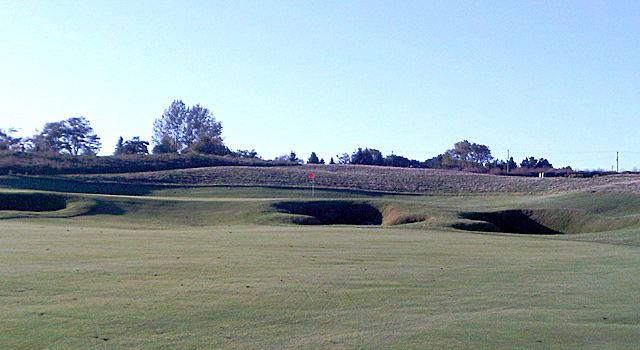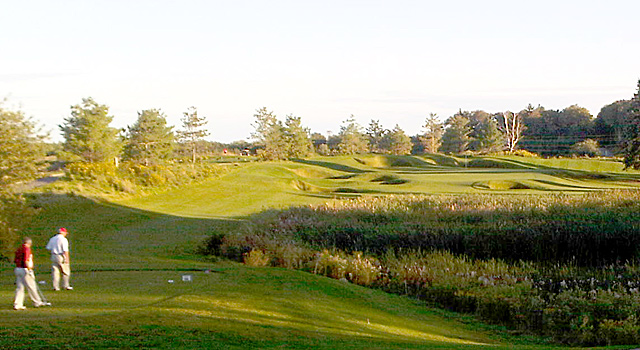 This is the 17th hole, a longish par 3 which has been criticized as being sort of an afterthought. I like it.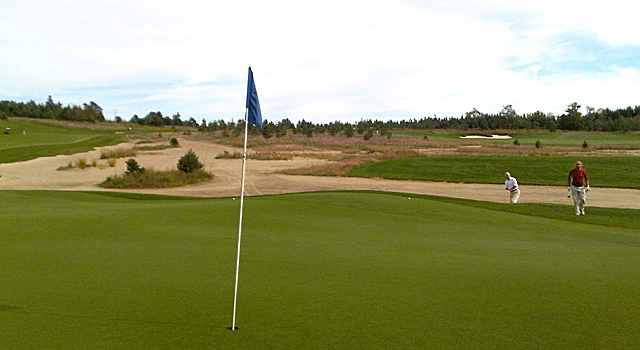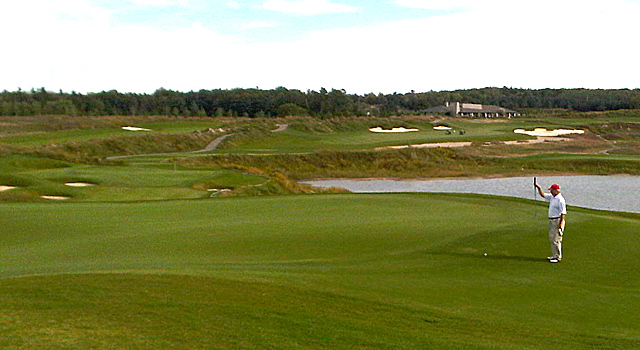 I caught Frank plumb bobbing.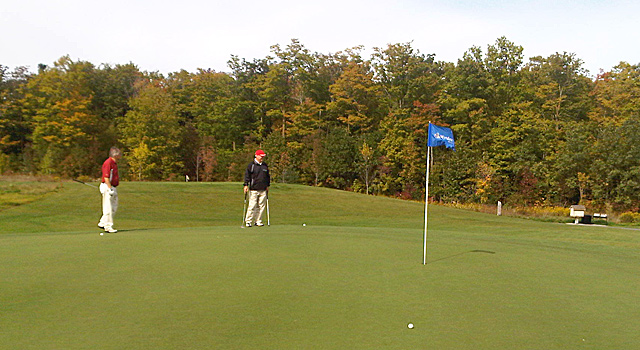 Fritz and Frank plotting their strategy on one of the expansive greens.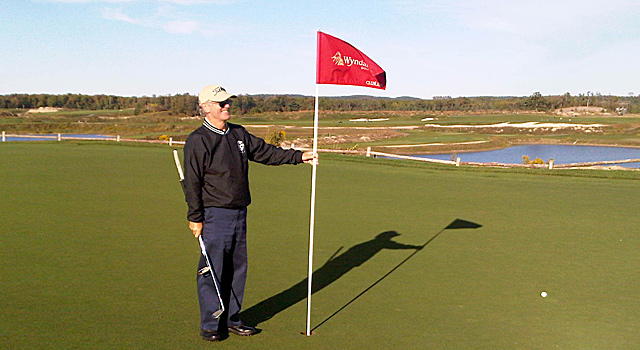 Mike holds the flag as the wind blows.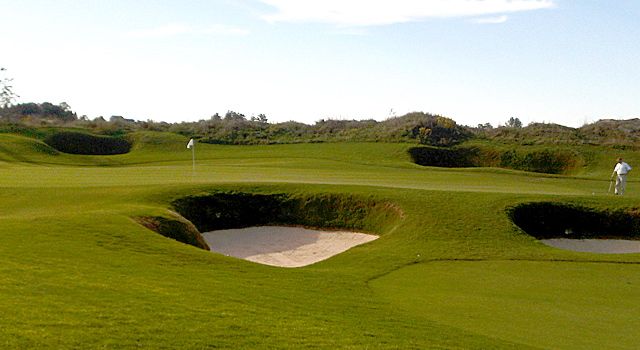 Another beautiful green complex.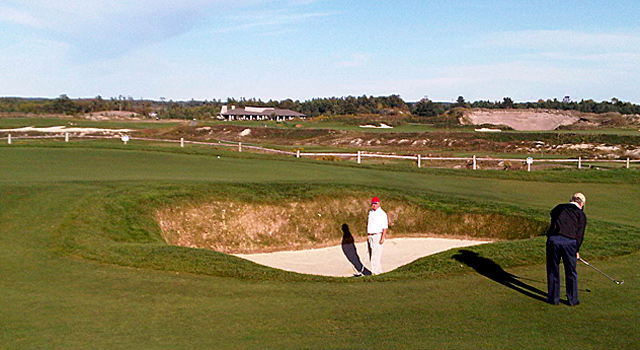 "Are you sure you know what you're doing?"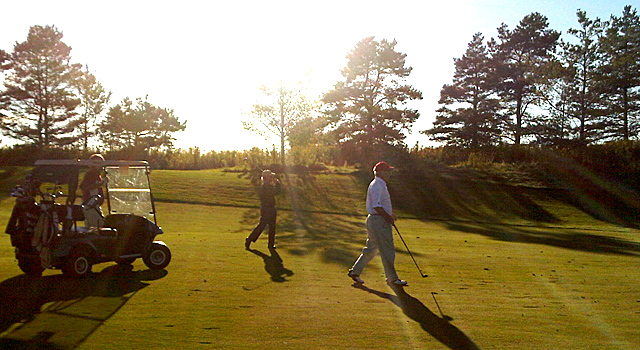 Late afternoon on the golf course.
Related Posts: