12 Feb 2011
The Last Spike and Other Bits of Canadiana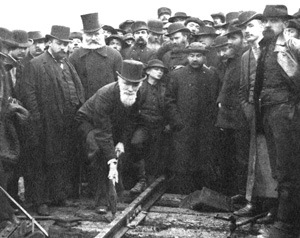 "The Last Spike" that's Donald Smith at Craigellachie, B.C., 1885
I was in the local Chapters book store a few days ago looking for something interesting to read and two things about their selection of Canadian books stuck out.
First there is the aggravating use of the cute term "Canadiana" to classify books about Canada. At least that is what I think "Canadiana" is supposed to designate, since I refuse to look in this section.
I think it is about time to retire this term. Doesn't it just emphasize how weak and paltry is the selection of books about Canada – that we need a nice little section with a cutesy name to tell people "this is where you find books about Canada." Can you imagine going into a bookstore in, say, Ireland or Israel and seeing a section for "Irelandiana" or "Israeliana". I didn't think so.
The second thing that struck me was when I eventually found the section about Canadian history. No, for some reason this was not a sub-section of the "Canadiana" section. It was a small section fairly close to all the books about American history, and the new releases by such notables as Glen Beck, George Bush, Dick Cheney and Donald Rumsfeld.
Can you guess which books were most prominent in the Canadian history section? Come on… you know that guy who wrote all kinds of popular books about Canadian history 20 or 30 years ago and died in 2004 at the age of 84.
Still can't guess? OK, it was Pierre Berton.
Yes, that's right. Pierre Berton.
Now I have nothing against PB, but it seems odd to me that there haven't been a few noteworthy books about Canadian history written in the last 5 years by Canadian historians. A couple of weeks ago I did manage to find Champlain's Dream, by David Hackett Fischer. This is a great book about one of Canada's most important founding personalities. But Fischer is not a Canadian, as far as I can tell. Odd that such an important book would not be written by a Canadian.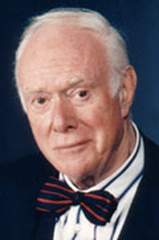 Anyway, back to Pierre Berton for a minute. Berton was not only an author (he wrote 50 books) but he was also a story teller and a television personality involved in game shows (Front Page Challenge, The Great Debate), interviews and public affairs (The Pierre Berton Show), documentaries (The Golden Trail – about the Klondike golf rush), and at least one TV miniseries about Canadian history called The National Dream which was based on excerpts from a couple of his books and which he narrated himself.
I can still remember seeing the episode about the driving of the "last spike" of the Canadian Pacific Railway. I'm sure Berton did more to publicize this event than any other Canadian before or since. It took place at a whistle stop in the Canadian Rockies called Craigellachie – named after the anscetral home in Scotland of George Stephen, the first president of the CPR.
More than once I've asked someone "Do you know where the last spike of the CPR was driven in 1885?" Expecting them to say, "Sure it was at Craigellachie in the Rocky Mountains. I remember hearing Pierre Berton tell the story." But to my surprise, no one I've talked to knows the answer.
I even remember a few years back driving through the original Craigellachie in Scotland thinking "Hey, this is the place where they got the name for the little town in British Columbia where Donald Smith drove the last spike of the CPR."
So yes, I am an admirer of the late Mr. Berton. But even granting Pierre Berton his due, it still seems odd to me that there are so few recent books about Canadian history written by Canadians. Am I missing something?
P.S., By the way Sean, it was Berton who admitted to experimenting with marijuana for 40 years.
Related Posts: