September 4, 2010
Tarandowah Golfers Club – Avon, Ontario
Tarandowah Golfers Club is located just outside of Avon, Ontario, a little more than 5 minutes off the 401 highway between London and Woodstock. It is your classic "out in the middle of nowhere" course, seemingly built in a farmer's field.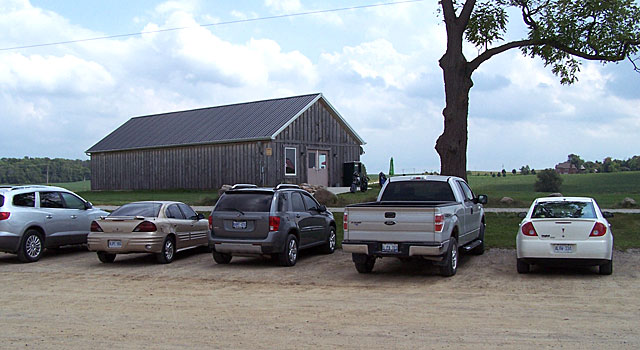 But this is not just any golf course. It is an example of what its owners call "pure golf" – links golf in the best tradition of Scotland, Ireland and Wales. Judy and I thought it sounded interesting so we drove down to Tarandowah last week (August 25, 2010).
Like many links courses the first impression is somewhat underwhelming. The parking lot is dry and dusty. The clubhouse is about as bare bones as it gets on a golf course in Ontario.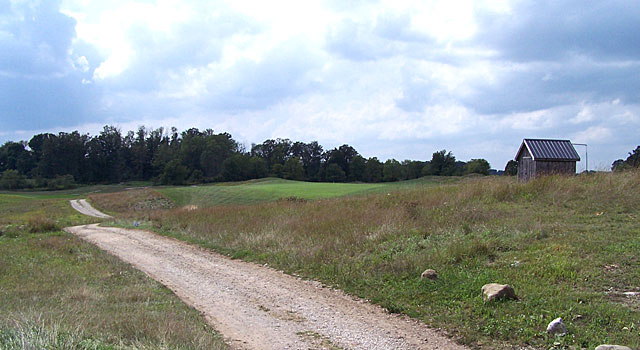 And to the untrained eye the view from the first tee doesn't inspire a lot of confidence. "Where the heck is the fairway?" was my first thought. But having been on a few courses like this before (Brora in Scotland comes to mind) I was confident it would all become clear soon enough.
Which, of course, it did. Once out on the hard, firm, fescue-lined fairway you could quickly see where the course designer (Dr. Martin Hawtree) had spent his time and energy. The fairways are beautifully "natural" with very little of the artificial mounding designed to keep your ball in play. In other words, if you hit your ball near the edge of the fairway, the chances are good you will end up in the fescue.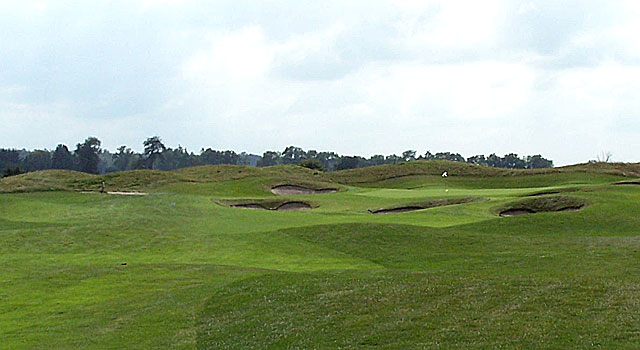 But it is the green "complexes" at Tarandowah that set it apart from the vast majority of courses. These are not just greens plunked down at the end of the fairway. Nor are they artificially multi-tiered greens surrounded by three or four bunkers. For sure there is mounding used to build up the greens above what the normal terrain would allow, but in my estimation this enhances the experience, and did not feel at all forced or synthetic.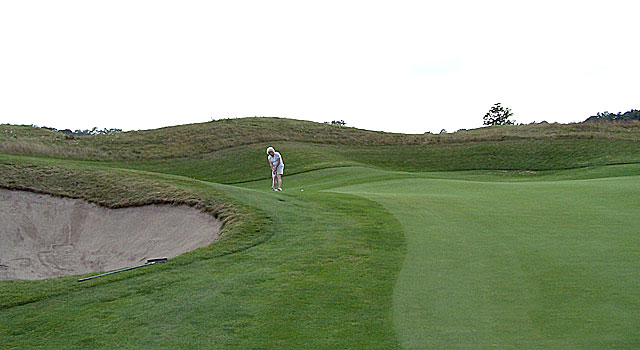 They are beautifully fashioned, skillfully bunkered works of art set about as naturally as possible into the undulating contours of the Ontario countryside. In my humble estimation to find greens like this in a sub-$50 per round course in an out-of-the-way part of rural Ontario is nothing short of miraculous.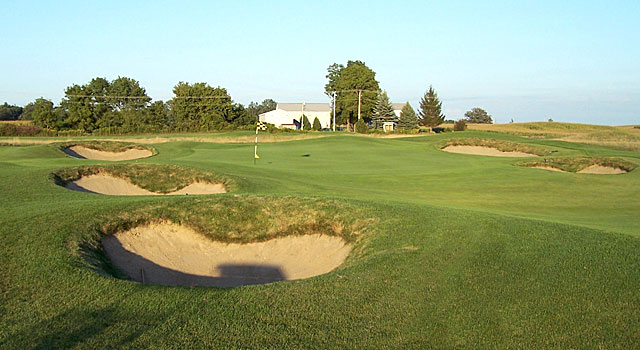 Yet, in spite of all the awards Tarandowah has won for design and affordability, let's face it, this is not everybody's favourite type of golf. And certainly the course is not perfect. Some will not like the rough and tumble cart paths. And the stream that cuts across two holes near where most of us put our drives might have been handled differently. (Although I must admit the surprise "burn" that pops up in the middle of the fairway is a feature of a few courses I've played in the UK.)
In short, Tarandowah is not for everyone. But if you want a unique, relatively inexpensive round of golf on about as authentic a links course as you're going to find in the middle of rural Ontario, Tarandowah is certainly worth a visit.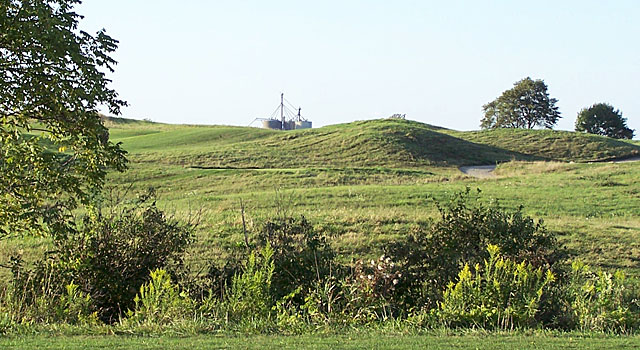 Was that a ship sailing along behind those dunes? No, I don't think so. Probably a silo on a nearby farm.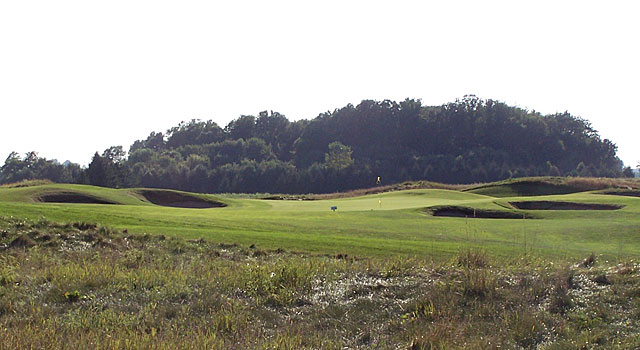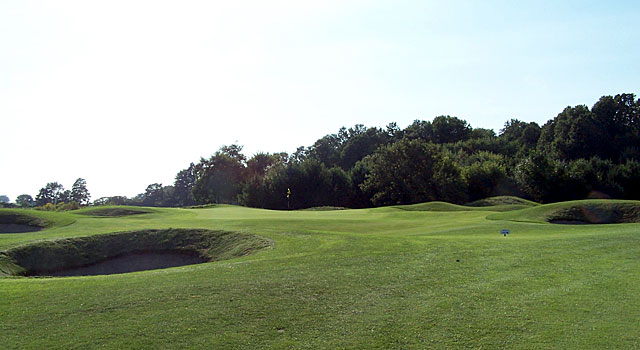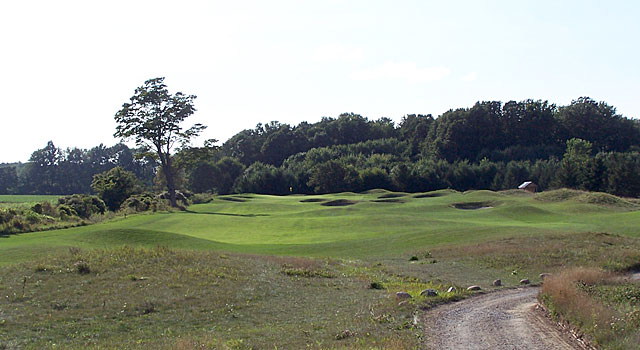 It is difficult to capture the beauty and subtlety of these holes in a photograph – especially looking into the sun, late in the day.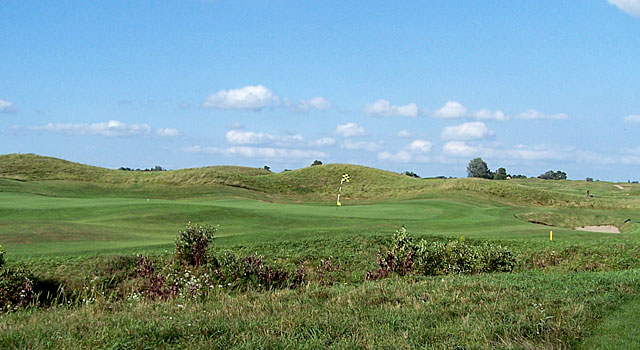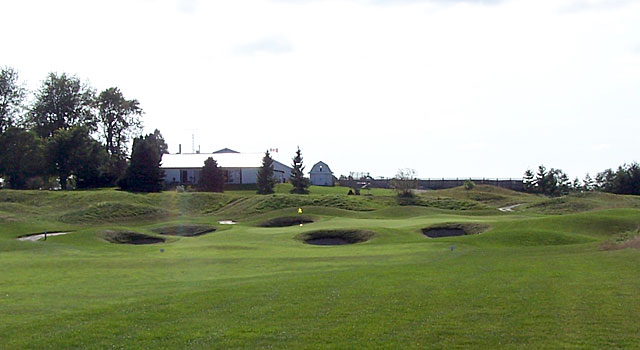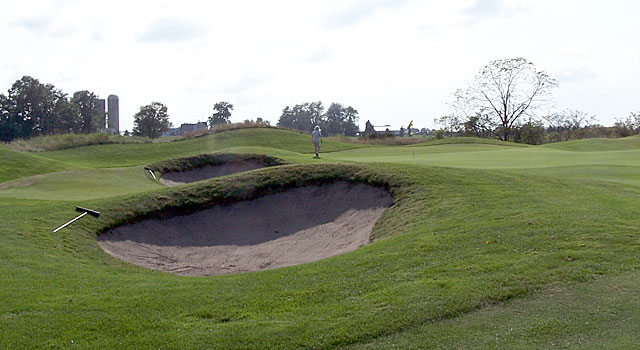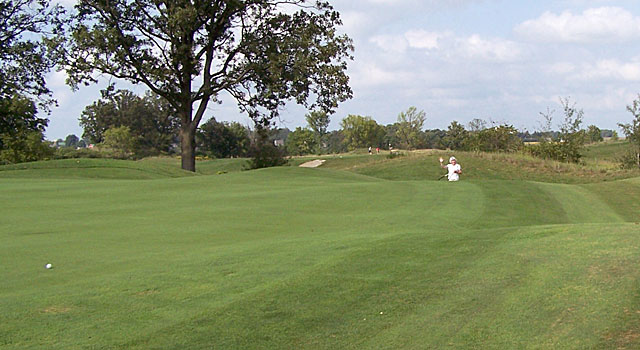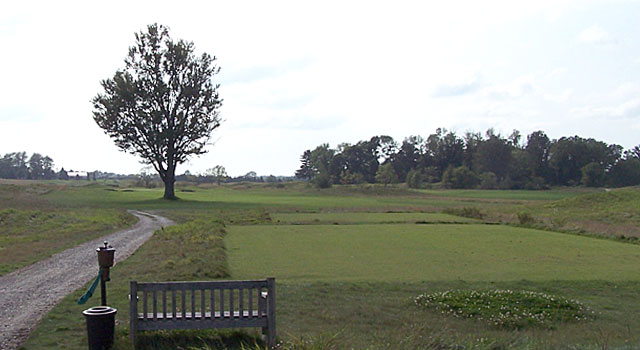 For those of you who like tree-lined fairways. Does this look familiar Fritz?